Shower Epiphany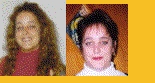 hair in progress

::: to the Brady bunch theme::::
Here's the story
of a girl named Stacey
who had really really long hair
one day her heart got broken
and she chopped it off
Ok, so many, many years ago, I had long hair. A 5 year relationship went down the tubes and decided (in one of my spur of the moment "great ideas") that a change of hair style would be a good thing. So did I get a trim? HECK NO! I decided to go with a pixie cut. I have no pictures of the actual cut because I was so traumatized. All pictures of me with that hair cut were ordered burned by the grand and powerful wizard. But here is one in the growing out stage. After moving to CA, I decided I'm gonna let it grow out...
now pay attention... here is the grand part of this whole post.... today, while doing my hair .... I realized...
MY HAIR IS PAST MY SHOULDERS AGAIN!!!! The back is longer than the sides (please... don't think mullet... think growing out short hair) but the sides are touching my shoulders. So.. Woo Hoo! Bully for ME!
reply to comment 554 p.m.: Thanks Alyx. I'll have to get someone to take a pic sometime to post a current length. I've been pulling it back everyday because it was in that "in between" stage and didn't realize. Now I guess it's off to find a hair stylist to put some shape into it.