Clapotis and a great SP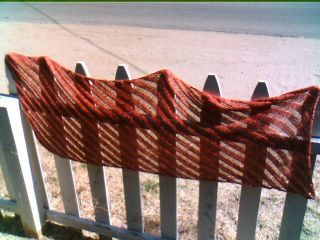 Clapotis

Yes, it it finished. Finally. I loved the increasing and the decreasing, but DANG! that straight section was never ending. I kept singing
"this is the shawl that never ends...it just goes on and on my friend... some people started knitting it, not knowing what it was, but they'll continue knitting it forever just because...."
You know the rest.
Pattern: Clapotis from knitty.com
Yarn: SWTC Bamboo in Tequila
Started: February 4, 2005
Finished: July 10, 2005
I love, love, LOVE this yarn... love it to death.
The pattern really wasn't that bad. When I actually put time in on it, it did go relatively fast. I would make another one, but wider. This one is perfect for summer a/c. Maybe something a little heavier (heheheh Noro?) for cooler weather.
Yes, I finally opened my SP mail.
WOO HOO! SOCK YARN!!
I'm going to make the chutes and ladders socks from SixSock. I was looking for something to make these socks with.
I've been coveting those little sheepy tape measures. It's in my bag already.
YEAH! Another purse pattern! Now I have a reason to hit knitpicks again. Gotta have wool.
Not pictured.... one of those adorable compressed wash cloths. It's hanging on my line drying because I
had
to let it be free.
Oh what to start on next...